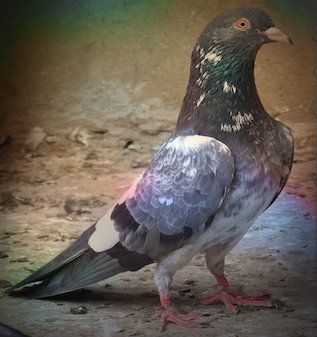 Every human being has body waste and toxins. The process of throwing out those toxins is called excretion. A bird is no exception. After the bird has eaten its food, some of the food material is thrown out of the body as bird droppings.
A bird dropping consists of a certain amount of nitrogen. There are three types of portions mixed in a normal dropping. The first of the three portions is called the feces that is solid green in color especially for the birds feeding on seeds. The feces may change color depending on the bird's feeding habit. The next portion consists of urates which have been seen many times in a bird dropping. It is white in color. White color urates show proper digestion. They are also stained which means that the bird is suffering from the infection. The third portion consists of urine. This is the watery waste that is found in both humans and animals. The amount of water dropping depends on how much water has been consumed by the bird. Some birds have the capacity to urinate more because of the intake of fruits containing water in them.
Health Risks- Why Is It a Must to Clean Up Bird Droppings?
There are a number of birds that are believed to pose risks to many people nearby. Bird droppings can cause a number of diseases. Some of them are a Histoplasmosis, Cryptococcosis and others. Fungus causes both these diseases, and both of them occur due to inhaling the air where a roost has been disturbed. A patient suffering from histoplasmosis will not show any symptoms, but he will high fever and blood abnormalities. Cryptococcosis, on the other hand, may start with an infection in lungs and then go on to spread in other parts of the body. It can be fatal if not treated properly.
Clean Up Bird Droppings
A bird owner must be careful of his bird droppings. One must view their bird dropping regularly or else your best friend will be a victim of sickness. They carry a lot of infections. It is very important to clean up bird droppings. Whether it is a bird or a dog or a cat, hygiene is very important. We must make it a point of cleaning our bird's cage every day because it is where it stays and eats and sleeps. This lessens the risks of getting infections via birds. Get the bird examined by a veterinarian and make sure it is healthy, and fit to be adopted and kept at your home. First and foremost a bird should be kept healthy, so he needs to be fed well and kept clean. Many people do not care to clean their bird's cage regularly. Perches in the bird's cage should regularly be cleaned. Even the bird's cage should be clean of dust. We must make sure our pet birds are having a healthy and a clean environment in the house.
It is very dangerous when a bird's dropping is found in your living areas such as your home or business. Little children in the house often have a habit of putting everything in the mouth that they see. If you are allowing your bird to roam around the house, then you must be extra cautious about your baby. They might just pop a bird feather into their mouths. If you have set up your business in your house then you have to keep it clean to attract more clients. Bird's droppings or foul smell of their dropping will not be a pleasant visit for them. Bird droppings cleanup in NJ by professionals helps you with this.
There are a number of disinfectants that can clean up birds' cages. It is heard that grapefruit seed extract can be very helpful in keeping the food containers and bird toys away from germs and bacteria. Another popular disinfectant called Citricidal. It is not only non-toxic but also as effective as bleach. A steam cleaner may also be used to clean the bird's cage. Besides cleaning, it is also important to sanitize and deodorize a bird's cage. Again there are many dangers involve when cleaning up a bird's cage yourself. It should be left to the professionals who are engaged in cleaning up bird droppings in NJ. They are highly trained and extremely efficient in bird droppings cleanup in NJ within a very short span. Sometimes we do not know what exactly to use to clean the bird's cage or how to keep it sanitized or deodorized.
The professional team cleans the bird as well as their cages perfectly keeping them squeaky clean. They are cost-effective and remove the dirt and germs. All the health issues that are associated with these germs are eliminated. After cleaning the affected areas the agents, who are cleaning up bird droppings in NJ, use sanitizers and also deodorizes the places. The only reason to hire a professional team, for bird droppings cleanup in NJ, is because they know the correct procedure to clean the birds' feathers and droppings. They take care of their customers and ensure them of their cleaning.