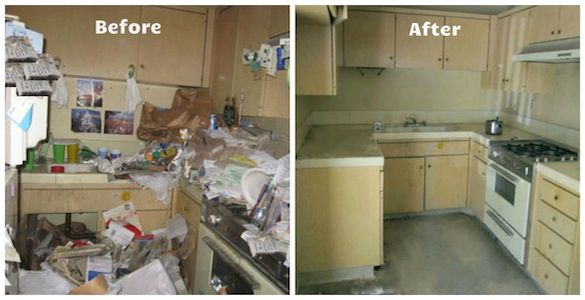 Hoarding can be defined as acquisition of huge quantities of the worth less useless things along with an inability of discarding them. This kind of behavior is generally associated to different psychiatric issues but it is found generally in the people having obsessive compulsive disorder. Approximately seven lac people to one point four million people in united Sates of America are believed to have thus disorder. Since the year 1999 All Stages is providing removal of clutter as well as controlling services, squalor clean up, disinfecting, remediation of odor, organizing as well as decluttering helps the hoarders of this disorder and their family and their children. Their service area includes Northern, New Jersey, Central, and South Jersey.
The saver syndrome is the condition which leads to collection of the potentially useful and desirable items to a huge extent. We offer professional, experienced, sanitizing, cleaning, indoor allergen, deodorizing, throw out, removal, repackaging, etc to the savers as well as their families.
Pet or animal hoarding is specialist in these kinds of services where by the numbers of the house hold pets, animals and other non domestic animals are kept in squalid situations which are not healthy for the animal as well as the hoarder, unsanitary, inhumane, and odorous and also pose to be a health hazard to the people in their vicinity.
Some common symptoms of this activity like avoidance, indecisiveness, procrastination, etc are capable of preventing any one afflicted from being capable of living in a safe, clean, sanitary environment. When this happens you need to call All Stages. We will definitely and very easily solve all your problems which will be associated with buildup of trash, junk, waste of food, bird, droppings of insect and birds.
Just ask the experienced, competent, sensitive and trained employees of All Stages for assistance. Our chemical engineered managed employees will discreetly and efficiently de clutter, sanitizes, deodorize and clean the affected area, attic, basement and office.
We Specialize in Heavy Duty Decluttering, Cleanup of Your Apartment or House, And Sanitizing
Junk, clutter, as well as removal of trash with, or even without dumpster services
Partial/total clean out of residence
Feces, urine, waste, removal of odor
In-door allergen removal and neutralization
Complete contact-sanitizing & fog disinfecting service
Deodorization with elimination of odor at source
Separation, organization, & throw out assistance
Improvement of the quality if air
Elimination of health hazards