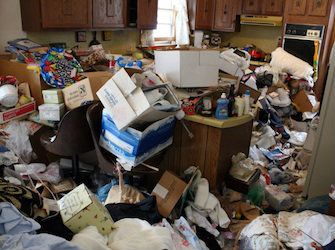 Do you find your house completely littered and cluttered? Do you have problems in getting the hoarding cleaned and sanitized? Then, you should call the professional hoarding cleanup services in New Jersey. They are specialized in clearing all the junk and the clutters so that your place is back to looking neat and clean.
What Kind of Hoardings are There?
There are all kinds of hoardings and clutter around. We give below some of the examples:
There could be fallen debris and stacks of other hoarded items around.
Or, there could be animal urine, feces, vomit and other biohazards.
Other than that, there could also be rotten and spoiled food products, which could cause germs to float around.
And, of course, how can we forget the infestation by insects?
All these factors can cause problems to health and also cause mental and emotional stress. So, in order to clear off all these and to relieve oneself from the stress, it would be better to take professional help.
Why Go to the Professionals?
It is not an easy task to remove the hoardings and trash on one's own. It is quite challenging and will require a lot of tools, time and efforts. So, it is better to outsource the tasks to the professionals. When you hire the hoarding cleanup services in New Jersey, they will disinfect the area and sanitize them so that there are no bacteria and germs around. With all the experience that they have, the cleaning up work will be done within no time and you will be completely satisfied with their work.
When you call the professionals, they will provide good quality services and will help in making your lives more productive and efficient. As you will not have to worry about clearing the debris, you would be able to concentrate on other things. They will make sure that your house or residential place is back to looking its perfect condition. They will take extra steps and care so that they are able to accomplish the task in the best possible manner.
So, if you have any kind of clutter or hoarding, don't worry about it and don't get stressed out. When there is a solution to all the clutter, why should you not make use of it? Just call the hoarding cleanup services in New Jersey and we will come to your rescue immediately. Make your life and your house clutter free.
Our hoarding clean up professionals will assist you through every step. Call now at (973) 302-4144. We are open everyday.